Family Dentistry
Dentistry for the Whole Family
Schedule Free
Consultation!
Family Dentistry
At Dental Arts of the Oaks in Thousand Oaks, CA, we provide quality dental care to patients of all ages. As a family dentistry practice, we are focused on making professional oral health care convenient and accessible for you and every member of your family.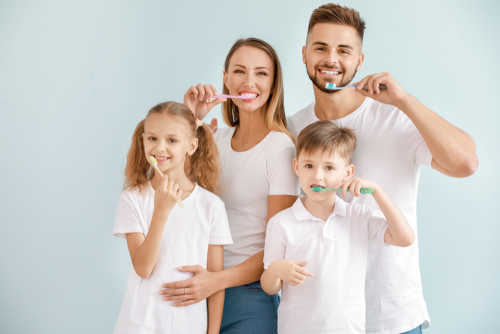 Comprehensive Family Dentistry Services
Whatever your family's oral health needs, Dental Arts of the Oaks offers comprehensive dental care that can address any need, including: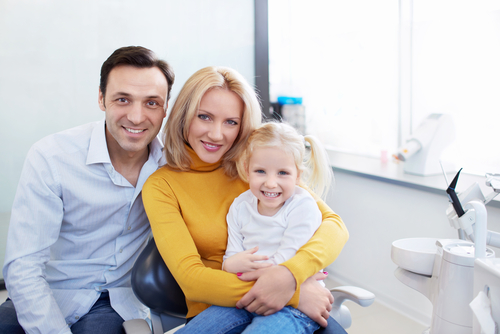 General dentistry: Preventive dentistry services include dental cleanings and exams every six months, as well as oral cancer screenings. Also fitting into this category are treatments like gum disease treatment, TMJ therapy, tooth extraction, mouth guards, sealants, fluoride treatments, and more.
Cosmetic dentistry: When you want to beautify your smile and it is healthy and strong and able to withstand changes, you can invest in cosmetic dentistry treatments like porcelain veneers, teeth whitening, dental bonding, porcelain crowns, smile makeovers, and more.
Restorative dentistry: If you have an oral health problem, damage, infection, decay, missing teeth, or otherwise, it can be remedied with targeted restorative dentistry like tooth-colored fillings, dental implants, dental bridges, dentures, porcelain crowns, and more.
Emergency dentistry: Dental emergencies are never fun, but it's good to know that you have a family dentistry practice you can rely on to deliver the treatment you need when you need it, including restorative dentistry, wisdom tooth extractions, root canal therapy, and more.
Family Dentistry Practice Treats Patients of All Ages
At Dental Arts of the Oaks, we welcome patients of all ages to our practice. You can schedule a group of appointments on the same day, minimize the number of trips you make, and limit the number of offices you must visit for your whole family to get the dental care they need.
As you age, teeth and gums change and oral health needs shift. We cater to our patients in every stage of life.
Kids: Children have a lot going on in their mouths with teeth coming and going for years. We focus on teaching kids how to brush and floss properly, understand the importance of oral health care and dental visits, and provide dental exams and teeth cleanings, including digital x-rays, fluoride treatments, sealants, orthodontic evaluations, and tooth-colored fillings.
Teenagers: Teens have the same dental dilemmas as kids, but there is also the question of whether they need braces. This is a time of rapid development, and self-consciousness about appearance. We offer the same general oral health care for teens as we do for kids, as well as wisdom tooth removal and guidance about orthodontics.
Adults: Adults need preventive dental care twice a year, just like children and teens, but they also have the option of investing in their smile further through cosmetic dentistry. Customized upgrades like porcelain veneers and teeth whitening are powerful ways to get a flawless smile makeover that can change your life personally and professionally. And, of course, our comprehensive menu of general and restorative dentistry treatments are always available.
Seniors: The older demographic often experiences unique oral health needs because of complications that develop due to age, illness, or the side effects of medications. It's possible for seniors to be stuck with deteriorating old dental work, a broken down smile, or gum disease. All of these conditions can be repaired and smiles can be rejuvenated through customized restorative, cosmetic, and general dental care.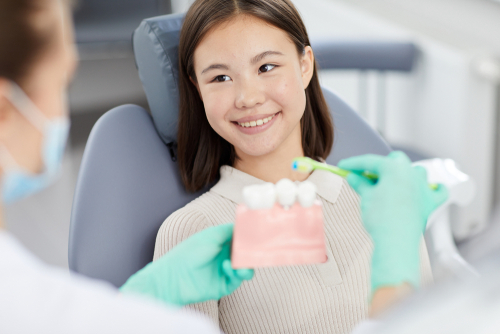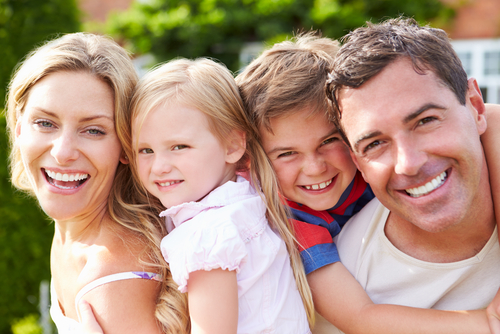 Family Dentistry Practice Near Me in Thousand Oaks
Is it time for you or members of your family to get a teeth cleaning? Don't hesitate to schedule your next check-up. Contact Dental Arts of the Oaks in Thousand Oaks, CA, to get on our calendar. Prioritize your oral health – it's an important part of your overall health and well-being, not to mention your self-esteem. The small effort of seeing your dentist every six months can protect you from pain, oral health problems, and costly repairs – and help you maintain a bright, white, beautiful smile.